Product overview, quick start guide and FAQ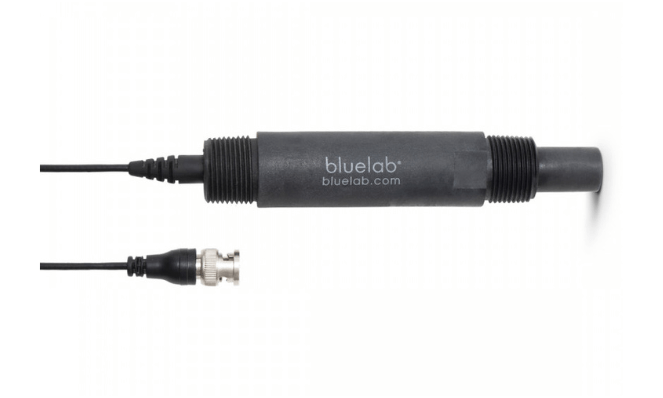 Overview
The Bluelab pH Probe In-line is a replacement double-junction probe for your Bluelab Guardian Monitor Connect In-line. Use this probe to measure pH accurately directly in your nutrient line.
Features
| | |
| --- | --- |
| Double-junction reference | 3/4" NPT thread fits inline mounting; use with 1" adapter |
| Fully waterproof, including cable joint | Pressure rating of 7bar pressure or 100 psi |
| 3-metre / 10-foot cable | 1-year warranty |
---
Quick start guide
Before you use your In-line Probe:
Attach the In-line probe to the meter via the BNC fitting (metal end).
Remove the storage cap. Hold the cap and twist the base one full turn, then gently remove. Salt crusting on the probe is normal.
Calibrate your probe to your Bluelab meter, monitor or controller by following the instructions on the back of the probe. Read more on how to calibrate your probe.
Recommended installation of in-line probes
Mount the In-line Probe in a horizontal orientation into a vertical pipe to ensure consistent contact with the solution and prevent sediment from forming on the probe head.
Important: Ensure the probes are securely tightened into the pipe fittings. Thread tape is recommended to protect the PVC threads and prevent leaking.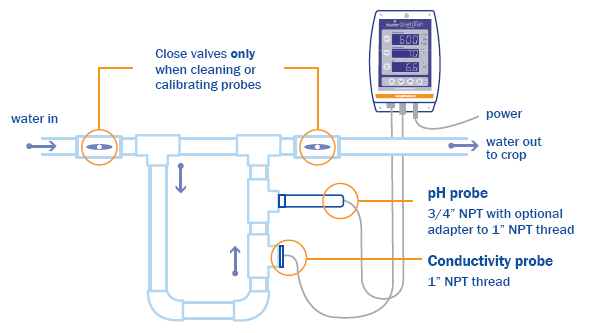 Quick tips for care
Clean and calibrate your probe at least monthly. Follow the pH probe calibration guide.
Never immerse the probe in proteins or oils. Oils affect the accuracy of the probe as they leave a film on the probe.
Avoid knocks and sideways force. This could damage the delicate glass inside the probe.
Further resources
How to calibrate Bluelab probes
Cleaning Bluelab pH probes (+ video)
FAQ and troubleshooting guide for Bluelab pH Probes
Still can't find what you're looking for? Contact Support