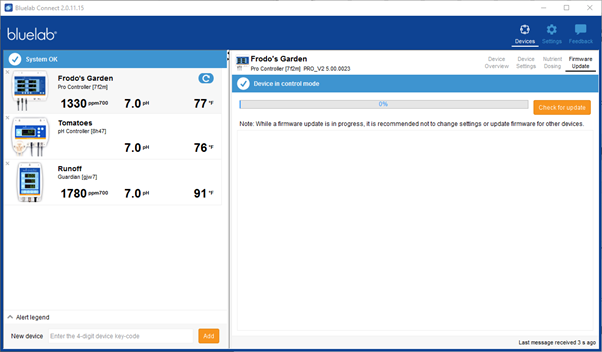 The Firmware Update screen allows the Pro Controller and PeriPod firmware to be updated via Connect. At Bluelab we are continually trying to improve our products, and this functionality allows firmware updates to be applied.
To ensure optimal performance and stability, we recommend keeping up to date with firmware.
To check whether any updates are available, click on the "Check for update" button. If an update is available, it will be displayed. A prompt that firmware updates are available may also be displayed automatically when Connect is started.
Options on how and whether to carry out the update will be displayed, depending on the type of update that is available.
In general, it is advisable to wait until the Pro Controller is able to be placed in monitor mode for 10 minutes or so, maybe at the end of a growing cycle, or reservoir replenishment, and then start the update. While the update is in progress, avoid excess traffic on the Connect network, by not changing settings on either the Pro Controller itself, or ideally any other devices as well. For the same reasons, it is best to only update one device at a time.
If an update fails, for any reason, simply start the update again. It may be the case that communications between the Pro Controller are marginal – sufficient for operation, but not quite sufficient for an update. If this is the case, bring the Pro Controller closer to the computer which has the Connect stick, carry out the update, then replace the Pro Controller into its working position.
When an update is carried out all Pro Controller global and dosing settings are preserved, and the Pro Controller will restart in the same condition and mode as when the update was commenced.