"The install4j wizard could not find a Java(TM) Runtime Environment on your system"
How to fix this error, if you are seeing this message when installing Bluelab Connect on your PC or laptop: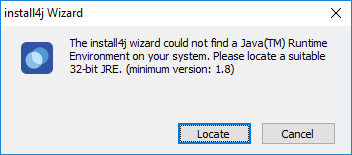 Install Java.
For Windows:
For macOS and Linux:
Restart your computer.
Run the Connect installer again.
*Note: We use the 32-bit Java Runtime for Windows, since it allows one installer for both 32-bit and 64-bit Windows installations.
For further assistance please contact us (support@bluelab.com).