The IntelliDose controller should be installed in a cool, dry place out of direct sunlight.
Remove the screws holding the back, fit the mounting feet, then screw to the wall. If using the dry wall (plaster board) anchors, use the longer screws supplied. If fixing to a plywood back board use the shorter screws.

Typical Installation for NFT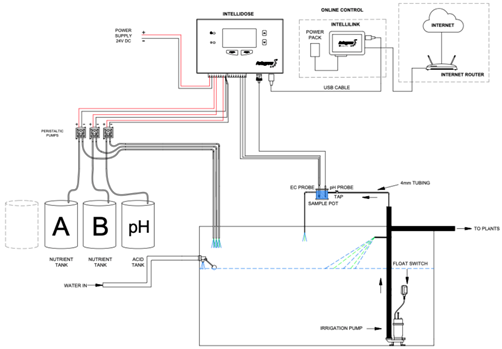 Installation for NFT with solenoid valve to automatically add water to dilute EC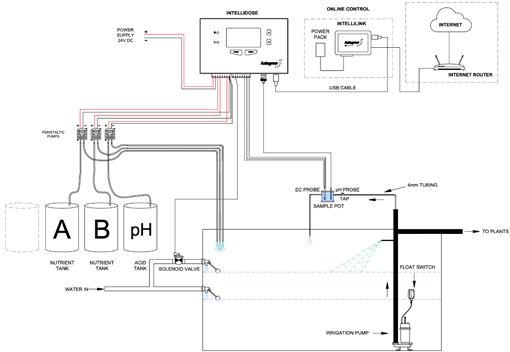 Installation for NFT with solenoid valve to automatically control water and Irrigation pump via contactor panel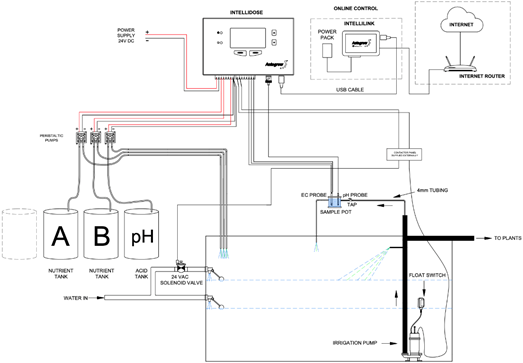 Typical installation using peristaltic pumps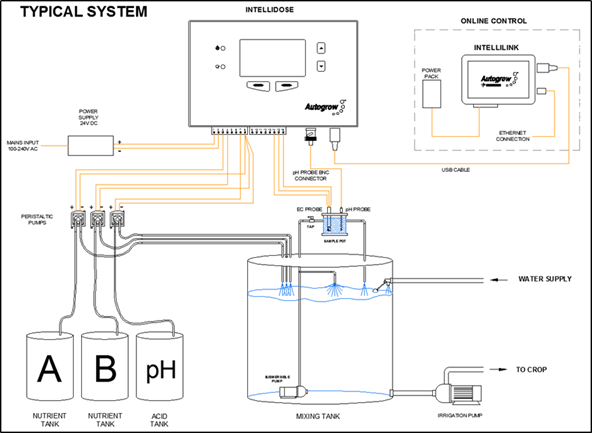 NOTES:
If an irrigation pump is used, a second small pump should be used to continuously circulate the solution through the sample pot and keep the tank stirred. The irrigation pump would then need a "pump start relay" with a 24V DC coil to switch on, only when an irrigation is called for.
If the irrigation water is returned to the reservoir tank, allowance must be made for the level to rise a little above the float valve level
Connection diagram for 1,2 or 3 part nutrient dosing

The low voltage power from the adapter is connected to the two-left connection terminals on the left-hand connector. With many power supplies, the cable is a screened "co-axial" type. In this case the screen should be connected to the "Common" and the centre wire to the 24V line connection on the controller.
A 24V DC power supply adapter is supplied together with 24V DC peristaltic pumps.
The connection diagram for more than 3-part nutrients must be mapped by IntelliGrow software, AFTER configuration has been complete. If you are not intending to use IntelliGrow, please ask your supplier if they are able to pre-configure and print out the wiring diagram for you.
Peristaltic pumps
Supplied peristaltic pumps are rated for 24V DC. You can run up to a total of 9 peristaltic pumps, based on your system configuration. Peristaltic pumps should be installed above the stock tanks and the reservoir. The stock tanks should be on the ground, next to the reservoir.
IMPORTANT
Peri Pump mounting height should not exceed maximum 2.1 metres/7 feet measured from the bottom of the stock tank.