Before you start creating a schedule for your dosing system, check the below list:
Have you enabled "use scheduling" feature?
Check how to enable scheduling feature: here
Do you know how many nutrient parts you are going to use?
Do you know in what ratio you're going to mix your solution?
Have you prepared a Feed Chart on a paper or in Excel sheet? We recommend doing this.
Have you checked with the supplier or do you know the Nutrient range or target for your weekly schedule?
Example: In week 3, Nutrient should be between 1000 to 1300 ppm, use AVERAGE when setting up Nutrient value. For example, for a range of 1000 to 1300, use 1150ppm in schedule
Set your "Nutrient" unit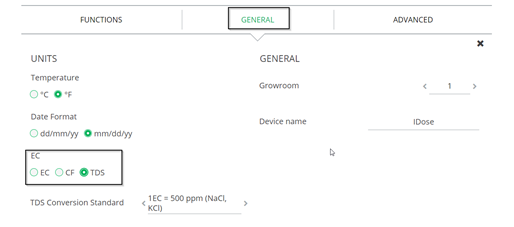 EXAMPLE
Below Feed Chart is just an example of how you can set-up scheduling for your dosing system. First prepare a Feed Chart for your schedule similar as below. Parts and Weeks can vary.

Feed chart contains 6 nutrient parts, 6x Weeks cycle.
Nutrient dose time = 10 seconds = 100%

Steps:
Go to Scheduling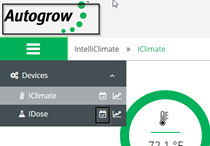 2. Click on "Add" or "+" to add the schedule
3. Set the "Date" and enter nutrient part percentages. Make sure to SAVE the changes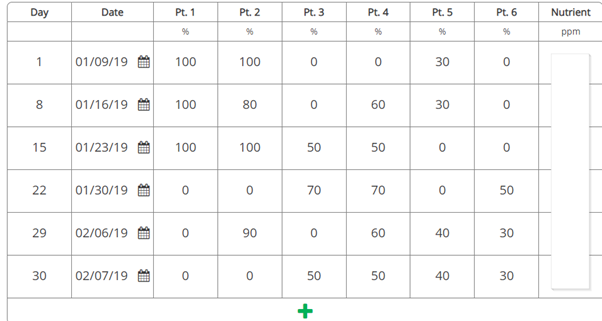 NOTES:
Autogrow can't recommend Nutrient set points as it can vary for every other grower. Please contact your nutrient supplier for this information.
pH can't be controlled via scheduling. In order to controller the pH value, you need to set it under "SET POINTS"

If your EC or Nutrient value is fluctuating a lot from your set points,
- Adjust your dose time and/or dose interval
- Check your nutrient solution whether its diluted properly