Hydrating and cleaning helps to extend the life of your pH pen/probe. Here's how it is done.
HOW TO HYDRATE YOUR pH PEN
It is recommended to hydrate a pH pen or probe by submerging the glass tip in KCl storage solution for 24 hours before first use and calibration.
After use, clean your pen/probe, and make sure the sponge in the cap is well soaked in KCl storage solution before storage. Make sure to periodically check that this sponge is kept moistened during storage.
WARNING: Never use RO, Deionized or Distilled water. Pure water changes the chemistry in the reference solution of the pH probe, causing the probe to die.
You can purchase the Bluelab Storage & Calibration Solutions here.
HOW TO CLEAN YOUR pH PEN
Bluelab pH Pen Care & Cleaning Information Sheet (click on magnifying glass to adjust zoom).
You can purchase the Bluelab pH Pen Care & Cleaning Kit here.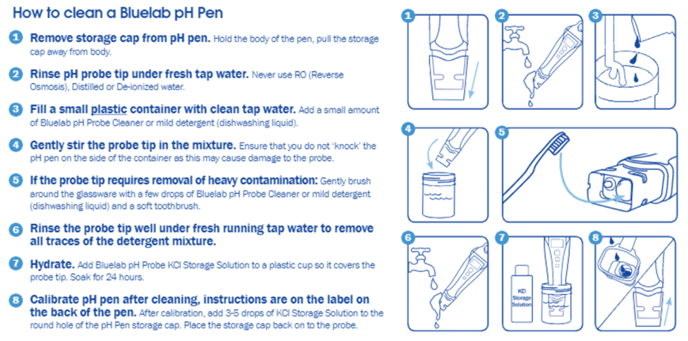 COVID-19 - HOW TO DISINFECT YOUR pH PEN