Product overview and how to get started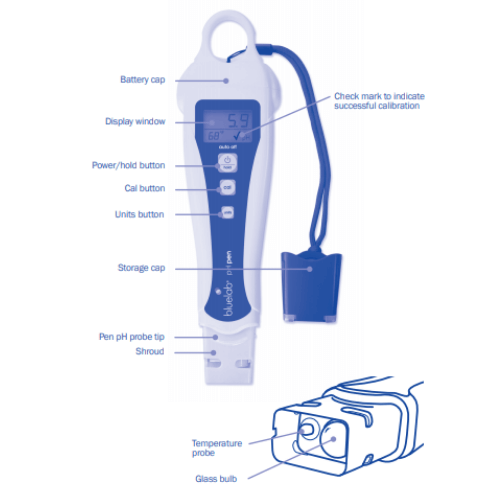 Overview
The Bluelab pH Pen is a hardy, compact, and accurate pH and temperature pen for using in nutrient solution. Use the pH pen to quickly and accurately know if your solution is too acidic or alkaline, or too hot or cold. Designed for everyday use, the Bluelab pH Pen helps you to keep your plants in the optimal pH and temperature range so that your plants can thrive.
Getting started is easy. Follow the instructions to hydrate and calibrate your pen, and submerge the probe in your nutrient reservoir to view the measurement on the display.
Features
| | |
| --- | --- |
| Backlit LCD display | Low battery indicator |
| Hold reading function | Fully waterproof |
| Fully guaranteed for 1 year (with proof of purchase) | Auto-off function |
| Double junction probe | Automatic Temperature Compensation (ATC) |
| Successful calibration indicator | Selectable units for °C and °F |
Register your product with Bluelab
Product manuals:
PENPH User Manual - German Deutsch
PENPH User Manual - Latin American Spanish
PENPH User Manual - Canadian French
Get started
Get started with the Bluelab pH Pen in 3 easy steps:
Hydrate your Bluelab pH Pen. Before first use, you must first hydrate the pH pen in KCl solution for 24 hours and then calibrate the pen using the calibration guide below.
Calibrate your pH pen. Calibrate before first use and return to this guide if you need a monthly calibration refresher.
Take your first measurement. Submerge the probe in your nutrient reservoir to view the readings on the display. Read this guide for correct usage.
Still can't find what you're looking for? Contact Support