Product overview, tips for setup and FAQ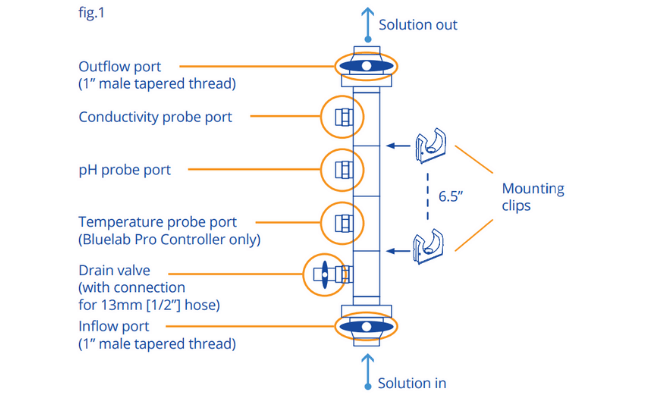 Overview
The Bluelab Sample Tube allows you to check your reservoir temperature, conductivity (EC/PPM) and pH measurements without opening your reservoir.
The Sample Tube Installs vertically to prevent trapped bubbles and the accumulation of deposits on the probe surface, fitting neatly into your control centre.
Compatible for use with the Bluelab Guardian Monitor, Bluelab Guardian Monitor Connect, Bluelab Guardian Monitor Connect Inline, Bluelab pH Controller, Bluelab pH Controller Connect, Bluelab Pro Controller, Bluelab PeriPod and Bluelab Dosetronic models.
Features
| | |
| --- | --- |
| 3 X Probe fittings | 2-year warranty |
| 1 X Drain port with valve | Multi-product compatible |
Register your product with Bluelab
Product manuals:
SAMTUB User Manual - English
---
Tips for setup
1. Watch for high pressure ─ The Bluelab Sample Tube is not intended for use in a high-pressure system. Do not exceed 15psi.
2. Clean and calibrate probes ─ Before you use the Sample Tube, ensure your probe's accuracy by cleaning and calibrating your probes following the guides below.
For Bluelab pH probes:
For Bluelab conductivity probes:
---
FAQ for the Bluelab Sample Tube
What is the best placement for my Sample Tube?
The sample tube should always be vertical and mounted 2 metres / 6.6 feet from your Bluelab Pro Controller or Bluelab Guardian Monitor.
Do I need to mount my Sample Tube above my reservoir?
No, it can be lower than the reservoir because the pump is pushing the solution through. If it is lower, pay attention that it won't siphon the reservoir if the pump is turned off.
Still can't find what you're looking for? Contact Support