Learn how to use the Bluelab pH Pen and Conductivity Pen, plus access your free growing resources

Overview
The Grower's Toolbox helps you to measure the fundamental crop parameters; pH, conductivity and temperature. In the box, you'll also find care solutions and a link to Bluelab's Grow Book ─ your guide to more efficient growth of stronger, healthier plants curated from over 30 years of experience.
In the box
Here are important links to help you use, care for and maintain your new Bluelab products.
Bluelab pH Pen: Get started here
Bluelab Conductivity Pen: Get started here
Bluelab Probe Care Kit (pH and conductivity): Get started with our cleaning guides for the Bluelab pH Pen and the Bluelab Conductivity Pen.
Free downloadable resources
Whether you're growing plants for food, for business or as a hobby, you need to understand their growing environments.
To help you on your growing journey, we've partnered with plant scientists to create resources that you can use to learn the fundamentals of growing.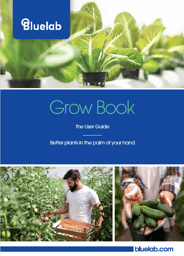 The Bluelab Grow Book
The Bluelab Grow Book is your free ebook curated from over 30 years of experience in growing. It contains 40 pages of value written by plant scientists on the following and more:
- Plant nutrition
- pH and nutrient availability
- Making sense of electrical conductivity